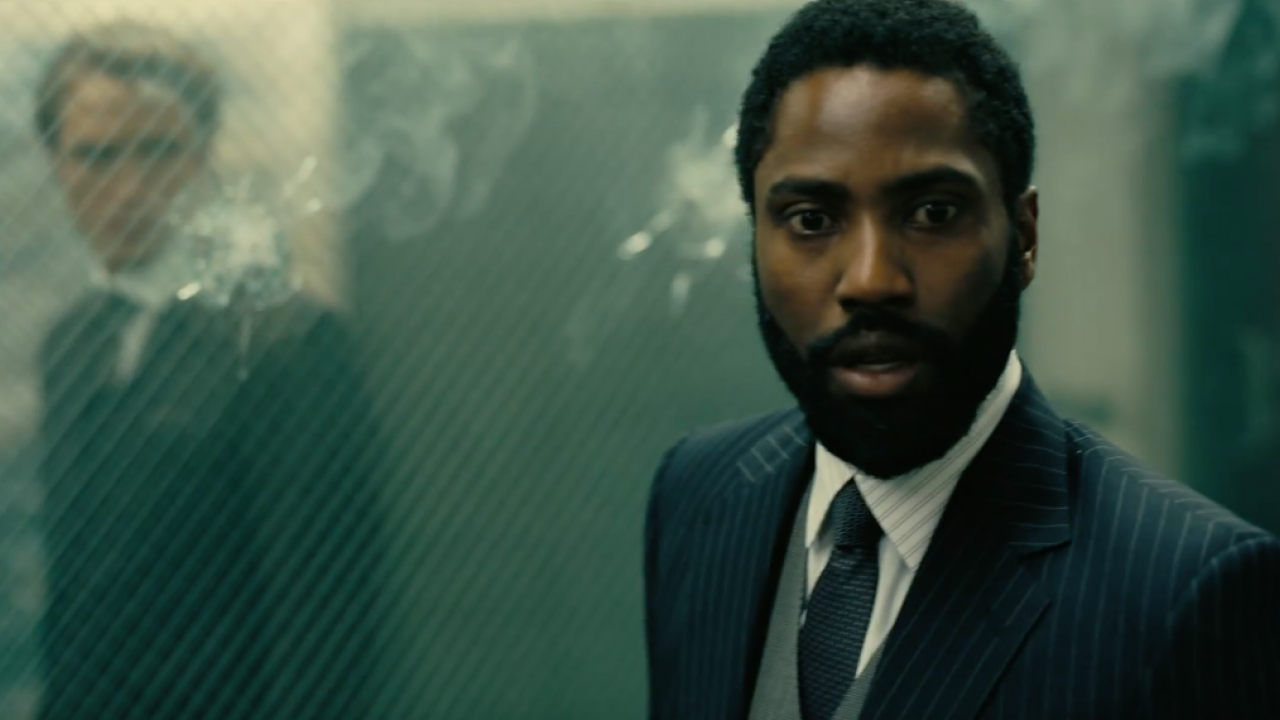 Christopher Nolan,
Tenet
, 2020
So here it is, last year's big box office smash, which for reasons you can guess we didn't get to see in a cinema - a humble DVD has to suffice. Can't say I didn't enjoy it (but you enjoy Nolan movies in the same way you enjoy a comic book or a video game) - the director keeps things moving at a brisk pace and though it flags a bit in the final battle scene (hey, I never knew Siberia was so sunny!), it sustains its 150' duration quite well. Thankfully, Zimmer wasn't on hand to fuck everything up with another bludgeoning overscored mess, but Ludwig Göransson comes in a close second. Most of his music is eminently forgettable, if often obtrusive. Locations, nice; cinematography flashily impressive; acting as good as can be expected under the circumstances. The circumstances being the (initially) confusing time-flowing-backwards-and-forwards-simultaneously negative entropy claptrap (I shouldn't titter: the real world of quantum mechanics is just as mindbending, and the only string theory I've ever understood is how to tune a violin) - but behind all the scientific jiggery-pokery is a basic save-the-world Bond scenario complete with multiple MacGuffins and Harry Potter Horcruxes. Of course, numerous websites have tried to explain the whole thing, the most amusing of which is this one
https://www.vulture.com/2020/09/tenet-e ... movie.html
and I don't doubt that Nolan has fretted over each and every little detail (red = time going forward, blue and oxygen masks = time going backward etc etc) so that, if you feel inclined to watch the thing about 40 times you'll eventually figure it all out. Or realise that there's nothing much to figure out at all, when all's said and done. It's about saving the world, see, but I don't get the impression Nolan gives a flying fuck about the world or the people in it: there's hardly any humour, no sex, nobody ever eats anything, and even the flimsy pretext of our hero going back through the turnstiles to save Elizabeth Debicki because she wants to be with her little boy doesn't really add up to much, as Nolan clearly has no time to show the slightest touch of human warmth, maternal love, what have you. Just as well, as Ms Debicki's acting ability is in inverse proportion to the length of her neck. Pattinson, whose character was, I read, modelled on Christopher Hitchens (wonder what
he'd
have made of it), plays his kind of Corto Maltese figure with amused detachment and vowels recycled from his Lawrence of Arabia in Herzog's
Queen of the Desert
; Branagh does his Russian accent with the same kind of manic intensity as he did Woody Allen in
Celebrity
; Michael Caine does Michael Caine. As for the hero, The Protagonist, John David Washington, does the job as well can be expected... His dad would have had more charisma, but Denzel's getting on a bit and wouldn't be able to do all that running about. So. The question is: do I want to watch this again (and again) to "get" more of the details? Not sure there's much to get, to be honest, but that seems to be part of Nolan's appeal. A major Hollywood director who makes "difficult" movies, indeed. You are cordially invited to spend a day of your life watching this ten times. Not so far removed from binge-watching several seasons of
The Walking Dead
or
Better Call Saul
, then. Personally, if I find myself in the mood for another time-travel sci-fi headfuck in the near future, I think I'll go back to Resnais's
Je t'aime je t'aime
or Carruth's
Primer.