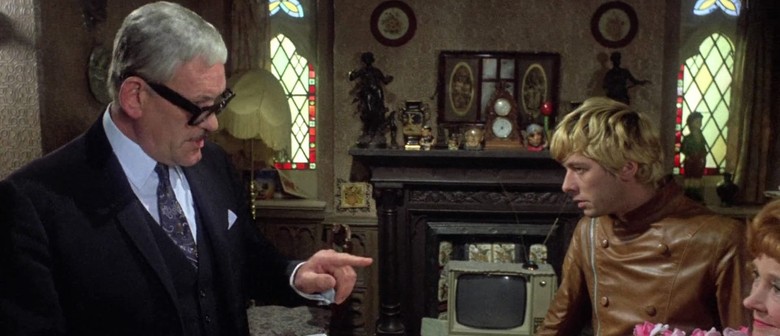 ,
Douglas Hickox,
Entertaining Mr Sloane
, 1970
"The old whore society really lifted up her skirts and the stench was pretty foul," wrote Joe Orton of his stay at Her Majesty's Pleasure in 1962, jailed for stealing and defacing books in Islington Public Library. "He was a bloody marvellous writer," were the closing words of Harold Pinter's eulogy at Orton's funeral in 1967. He was indeed: nobody was able to skewer the hypocritical, duplicitous, prudish viciousness of the English (more so than the Scots or the Welsh) with a few well-chosen bizarre juxtapositions of tired time-worn clichés than Orton, and Douglas Hickox's film adaptation of his 1964 breakthrough
succès de scandale
(though apparently criticised by some theatre snobs for being, well, a film adaptation) is excellent. Of course, it can't bite in the same way a piece of live theatre can, but with a sharp script (Clive Exton managed to get most of Orton's killer one-liners in), a stellar cast - Peter McEnery, Harry Andrews and Beryl Reid - and Syd Barrett's old pink Pontiac convertible, how can you go wrong?