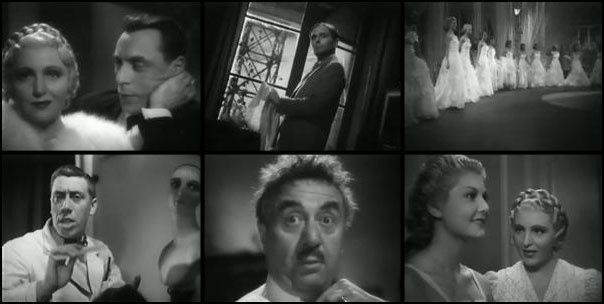 Julien Duvivier,
Un carnet de bal
, 1937
From
https://www.criterion.com/current/posts ... e-thirties
: "Mixing comedy and drama, whimsy and realism,
Un carnet de bal
, inspired by Jean Giraudoux's 1924 novel
Juliette au pays des hommes
, is an episodic work that, with its technical craft, visual inspiration, and shifting tonal registers, shows the filmmaker at his very best. Christine (Marie Bell), a rich, childless French widow living in Italy as she enters middle age, decides to travel Europe to reconnect with the suitors of her youth, whose names are penciled on a dance card from her first ball. The assurance of the film's first movement is dazzling. Christine's privileged existence is introduced via a series of gorgeous exterior images—mountains, cypress trees, and her enormous villa (achieved with a triumphant matte painting) emphasize the verticality of the 1.33:1 frame. Yet, as illustrated by a shot that begins close in on Christine and cranes out to reveal the vast space of her empty room, she is lonely. Duvivier then dissolves to a glittering ballroom of the past; we see a row of curtsying women in white, each grabbed by a partner and twirled away in rhapsodic slow motion. Adding to the scene's eeriness, composer Maurice Jaubert had his musicians play the score backward, then reversed the recording. It's a fitting first act for a film that depicts the past as a romantic illusion." Yep, they don't make 'em like this any more. Essentially a
film à sketchs
, one for each of the names in Christine's dance card - and what a stellar collection of actors: Françoise Rosay, Harry Baur, Louis Jouvet, Pierre Blanchar, Raimu, Fernandel - it's strikingly innovative not only in its cinematography and music but in the blunt modernity of the plot and Henri Jeanson's dialogues (the kind of situations and "bad" language that the Hays Code airbrushed out of American cinema for over three decades).