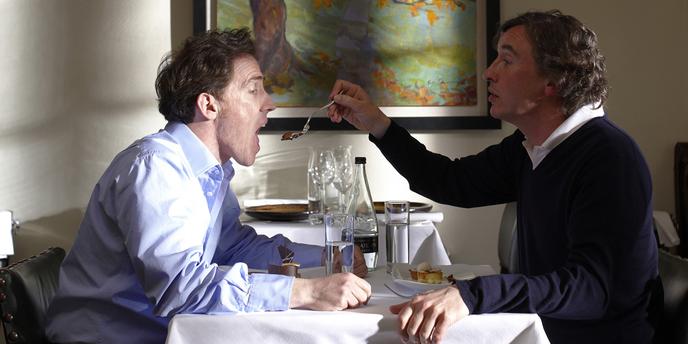 Michael Winterbottom,
The Trip
(Seasons 1-3), 2010-2017
Yeah, OK, this should be in I Hate TV but wtf, a cinema version already exists. Reviews range from mad rave to tired yawn, and I can see why. Fans of Steve Coogan and Rob Brydon (I consider myself one) will love their impersonations, though one does get a bit tired of them trying to outdo each other as Michael Caine, Roger Moore and Mick Jagger after a while, and the landscapes they drive through on their tour of restaurants (ha, what a good idea - can I volunteer for Season 4? I'll carry the Steadicam if it gets me a free dinner in one of these places) are stunning - even more so now that I know we won't be able to visit Cumbria, Italy and Spain for a loooooooooong time.. But the sideplot, grouchy Coogan vs upbeat Brydon, both playing fictionalised versions of themselves going through some sort of dull midlife crisis (complete with occasional forays into marital infidelity) and the distinctly melancholy end to each episode (is that Michael Nyman piano music?) is rather curious. Still, worth it for the Richard Strauss "Im Abendrot" in Season Two and Coogan's hilarious De Niro impersonation in Season Three. Which ends way out in the Moroccan desert, go figure - no, wait for Season 4, due out shortly.