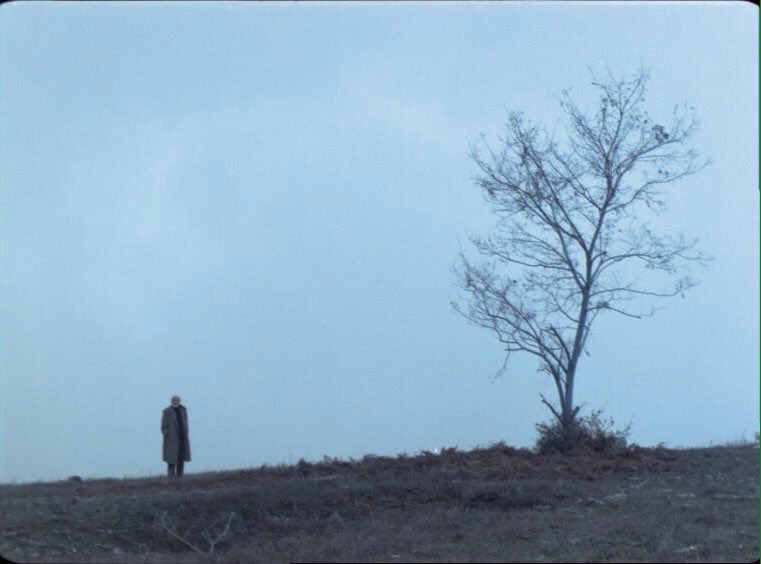 Theo Angelopoulos,
Voyage to Cythera
, 1984
It's Angelopoulos, so don't expect any high-speed car chases, gangsta rap or buxom bimbos bouncing in and out of sunny swimming pools. Don't expect
sunshine
either - Angelopoulos has a knack for making Greece (a place I invariably associate with impossibly blue skies, gleaming white churches and scorching heat) look like the Scottish highlands on a rainy November afternoon. Actually, this is one of his shorter films (only 137 minutes), and for some reason not one that fans of the director's work tend to put high on their Theo Top Ten list, though it explores his familiar themes: exile, melancholy, loss.. The cinematography is always quietly impressive, and there are many memorable shots, but there's very little to smile at: the depressive chainsmoking daughter and her gloomy brother can't do much to help their taciturn father, who ends up drifting out to sea. I'm inclined to agree with Richard Bernstein's
New York Times
review: "when the end comes, the viewer is left [...] with the vague unsettled feeling that, aside from gaining the knowledge that exile is emptiness, two and a half hours in the presence of much onscreen joylessness has produced little satisfaction." But see what you think..