PT Anderson - Inherent Vice (2014)
And so we begin our day with whole octopus ("an animal that decorates its lair and has been observed at complicated play"), which your monger will half, and separate the head and its connective tissue. Throw that on ice before you tenderize the shit out of it with a hammer. Surf check at the Lane, which is a zoo, Middle Peak firing. Cruise along West Cliff, smell the stink of rotting kelp at Mitchell's in the unseasonable heat. Recall the Bigfoot Lodge in the city with its 8ft wooden bear carving
http://www.bigfootlodge.com/
Lunch tacos at El Palomar which survived the earthquake, and get pulled into Hoffman's for a pour of absinthe
https://www.facebook.com/events/1406568746227113/
by Swedish Seppy. He practically has to yell at you over the Goth band doing Joy Division covers. Apparently the Fang tried to land a pontoon boat north of town at 4-mile beach, but capsized in rising surf and the cargo, 80 pounds of Mexican stinkweed, floated ashore:
http://www.ksbw.com/news/central-califo ... z/22201878
although they didnt capture all of it. Some of it floated down to a place in Beach Flats neighborhood owned by Jose "Xilo" Xilonzochilt whose mother got put away for selling a "pedaso" to an undercover cop with Xilo was out trying to land the pontoon boat.
http://www.ksbw.com/news/central-califo ... n/26370074
Xilo is now being represented by this guy Darst, who, when not engageing in petty acts of surf vandalism (
http://www.santacruzsentinel.com/201303 ... leboarders
) is a practicing attorney although "It's unclear what type of law he practices." Xilo is apparently hiding out at the Sunny Cove Motel
Off the record, the boat you should be interested in is Escape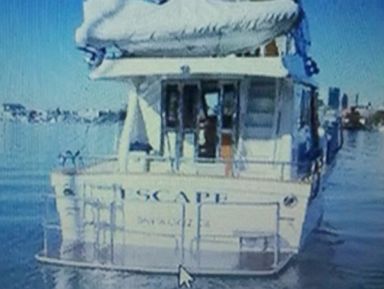 owned by a Forrest Hayes who worked for Google's secretive "X" division, and was given a fatal toes over the nose dose of SE Asian heroin by escort Alix Tichelman ("a jew who wants to be a Nazi", BDM etc etc) and may or may not be working for Chick Planet Massage via
http://seekingarrangement.com/
see also:
http://www.santacruzsentinel.com/genera ... santa-cruz
When you are ready to bake your octopus, hack into chunks, oven (peka od hobotnice without the peka) at 275, slow and low for 90 minutes with diced new potates, zucchini, leeks, carrot. Then add white wine take off cover and reduce liquid, test at third round of absinthe. Eat, take some for the nudists at Privates beach, locked gate access, bring card. Go for swim. Fall alseep in the sand knowing you are precious cargo that cant be insured because of, you know.
Chill Out Cafe is open where "We Roll the Fatties"
http://www.chilloutcafesantacruz.com/
. Get breakfast