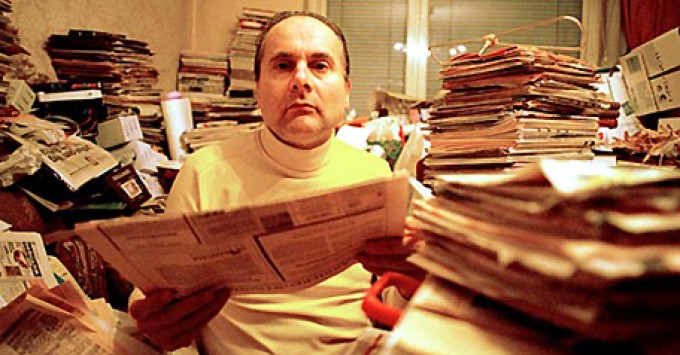 Ulrich Seidl,
Der Busenfreund ("The Bosom Friend")
, 1997
It's hard to believe, watching any of Ulrich Seidl's documentaries, that they aren't in some way rigged (you might say the same of Herzog at times) - whether he's showing S&M freaks or neo-Nazis in their cellars, over-attentive (shall we say) pet lovers, obese racist safari "hunters", there are moments, and many of them, when your jaw drops in disbelief. But we're assured this is for real.. would it be any more acceptable if it were a screenplay? I doubt it - Seidl's good at scaring the shit out of us in his fiction, too. Anyway, here's Mr Rene Rupnik (who later appears in
Paradise: Faith
if you're a Seidlhead), who lives with his aged mother in a tiny apartment in an ugly block of flats stuffed to the ceiling with junk, mostly magazines. Apparently he's a Maths teacher, but his real specialist subject is.. the bosom. (His word: my German's not up to it but I never heard him says "tits" - he does, however, wax lyrical about the onomatopoeic power of ficken - fuck..). He describes his obsessive stalking of actress Senta Berger (see the review on the last page), waiting backstage for her every night for 50 performances of
Tartuffe
, but the only stalking we see him get up to his stalking around his overstuffed flat wearing nothing but underpants. And sometimes not even those. This would be disturbing enough were he alone, but the fact that his mother is there too, cooped up in her bedroom where she keeps what little food she eats in a wardrobe and has to light the gas rings in the kitchen to keep warm as Rene throws open the windows to air the apartment. Chilling, indeed.