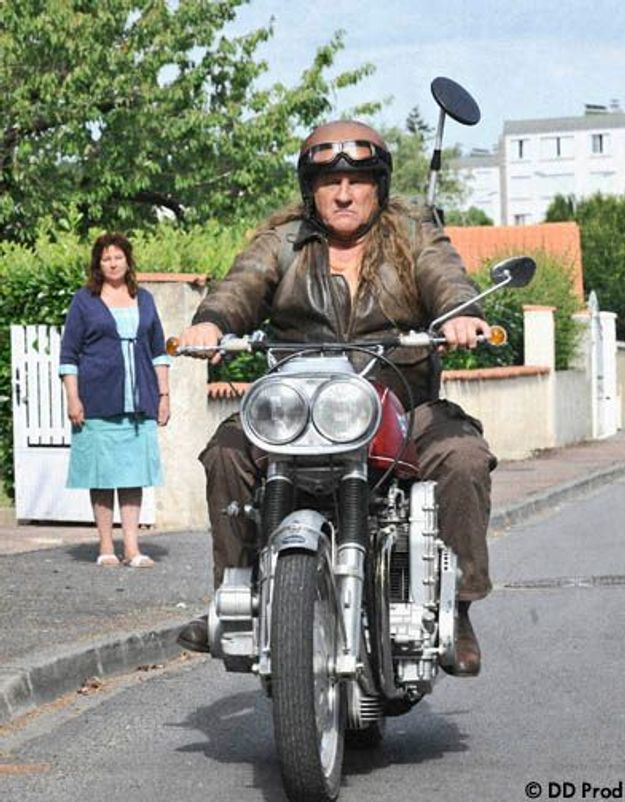 Benoît Delépine & Gustave Kervern,
Mammuth
, 2010
IMDb: "Serge Pilardosse has just turned 60 and is about to retire from his job in a slaughterhouse. He has always worked from the age of sixteen, never been on sick leave. So, how will this man fill his days? He does not like reading; doing odd jobs about the house is not his cup of tea; shopping is not his passion ... To make matters worse, his wife Catherine, who still works in a supermarket, notices that her husband will not get full retirement benefits since some of his former employers failed to do the requisite paperwork. So off goes Serge, riding his old Munch Mammut bike, in search of the missing documents." To say Depardieu is a big star is no exaggeration - he's bloody enormous (I rather doubt he does drink twelve bottles of wine a day, as he's claimed, but even three or four would be enough..), and any director worth his salt knows how to use it to his advantage. After all, Gérard's never been backward about coming forward when it comes to revealing his body (even that bit of it - especially that bit(e) of it: see Ferreri's
La dernière femme
and weep). Delépine and Kerven help deliver one of Depardieu's finest performances; like the vintage bike he rides, he's a wounded, lumbering beast in a world he longer understands, and can only come to terms with by recalling his past (wait till you see who plays his long-lost lover..). He doesn't say much, but literally fills the screen whenever he appears - even in long shots, his enormous size is impressively framed. Great supporting role for Yolande Moreau as his wife, stuck in a miserable job as a supermarket cashier, and a splendidly weird cameo for Benoit Poelvoorde and his metal detector on the beach. Simultaneously hilarious and desperate, easy to access but artistically subtle, one of the best films I've seen all year. Do check out.