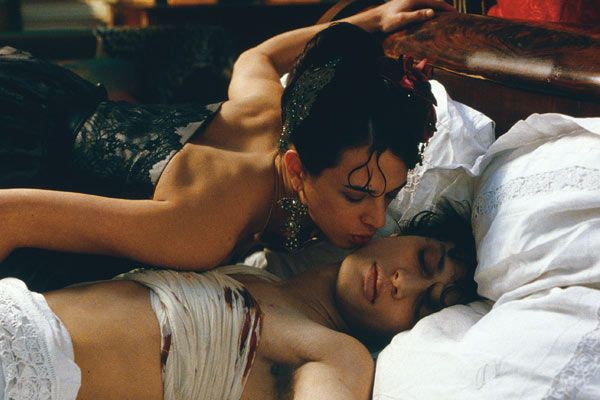 Catherine Breillat,
Une vieille maitresse
, 2007
What's in a name? Well, everything - you just ask Maurice Micklewhite and Archibald Alexander Leach. I have to say Fu'ad Aït Aattou doesn't trip off the tongue but his performance in Breillat's adaptation of Jules Barbey d'Aurevilly's 1851 novel is simply stunning. Breillat spotted the young man (born in 1980 to a Moroccan father, hence the name), who'd previously appeared in only a few commercials, in a café in Paris and hired him on the spot. "J'ai tout de suite su que, s'il savait jouer, il serait Ryno [de Marigny, in the film]. Pour la première fois, j'ai trouvé cette beauté fulgurante, féminine sans être efféminée, que j'ai toujours cherchée. Ce fut un coup de cœur absolu, celui dont je rêvais depuis toujours." Quite apart from being something to look at - touches of the young DiCaprio - he's got a speaking voice to match. If he'd been born 25 years ago and been in the right place at the right time, he'd have been the perfect Tadzio in
Death In Venice
. But that's just, like, my opinion, man. Anyway, enough of him: this is basically Asia Argento's show, and what a fine actress she turned out to be. The daft critic who moaned about her accent could perhaps have been reminded of the fact that she's Italian and playing a Spanish woman, but enough of that. Great casting throughout, wonderfully shot (I doubt I'll be able to face
Valmont
or
Dangerous Liaisons
ever again). Deserves to be better known, check it out.